It was 1923 when founder Fred Peart began trading as a coal merchant and that 'F.Peart & Co' was born. By 1925, the business had grown to such an extent that it was now registered as a limited company.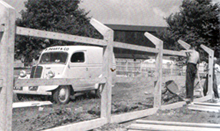 As the success story continued to unfold and the evolution of F.Peart & Co Limited gathered momentum, the 1930's saw the faithful horse and cart of yesteryear replaced by motorised transport. During the quieter summer months Fred began to make use of his new motorised fleet, transporting pit props to his suppliers of coal. It was here that Fred would learn the timber trade.
Having the spirit of a young entrepreneur and access to these wooden pit props, it wasn't long before they were being reduced in size, transforming them into timber post and rail fences. But Fred wasn't content in just supplying a fencing product, the erection of fencing was on his agenda too and it was at this time, the fencing division of F. Peart & Co Limited was born.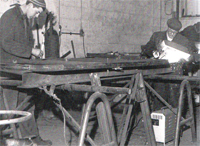 After the war, the country enjoyed rejuvenation and as materials became more readily available the fencing division thrived, with expanding product ranges encompassing steel and concrete. But Peart weren't just erecting fencing now, they were manufacturing it too.
By the 60's the manufacturing division was supplying their Peart products nationwide, whilst the erection side of the business was kept regional to Hartlepool.
1962 saw the unfortunate death of founder Fred Peart, but this was a family business and Fred's eldest son John stepped up to the mark and the Peart legacy continued.
From the 70's through to the 90's the board welcomed further family members, first David then Freddie, later followed by Roger Peart and today the latter two still remain at the helm of the Hartlepool head office.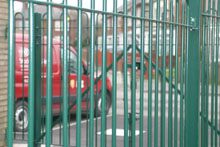 2001 saw a unique appointment in the form of the first non-Peart director Colin Stead, who currently heads up both fencing divisions as MD. As the decades have passed, each has contributed to building a successful group of companies servicing several different industries.
Today, the installation division is branded Peart Fencing Contractors which still remains active albeit in the North East only and Peart Fencing is the name given to the multi million pounds manufacturing operation that supplies fencing products UK nationwide.
For a more in-depth history of Peart Fencing Contractors, Peart Fencing and the Peart Group please visit the Peart Group website.